2022 Veterans Day Ceremony
The Timbers celebrated Veterans Day with a special ceremony on Friday, November 11, 2022. The Abraham Lincoln National Cemetery Honor Guard bugler played taps and representatives performed a flag folding ceremony. Each veteran received gifts from American Legion Women's Auxiliary of Lockport and a goodie bag with multiple items including a hand-made poppy crochet from the Timbers staff. Read More >>
---
Timbers 20th Anniversary Celebration
The Timbers of Shorewood celebrated 20 years of senior living in the greater Will County area with a ribbon cutting on Thursday, October 13, 2022. Jennifer Bertino-Tarrant, Will County Executive, joined the celebration and provided a certificate of recognition. Thank you to all our wonderful residents, family members, staff, and the entire community for a fantastic 20 years. Read More >>
---
WriteOn Joliet visited the Timbers of Shorewood Book Club
Authors from the WriteOn Joliet visited the Timbers of Shorewood at an event called "Meet the Authors". The members of WriteOn Joliet read passages from their book, signed books, and mingled with the audience. During the COVID pandemic, WriteOn Joliet member Denise Unland, donated 30 copies of WriteOn Joliet's fourth anthology titled, "Write Where We Are", to the Timbers Book Club. Read More >>
---
Del Bergeson Orchestra on the Patio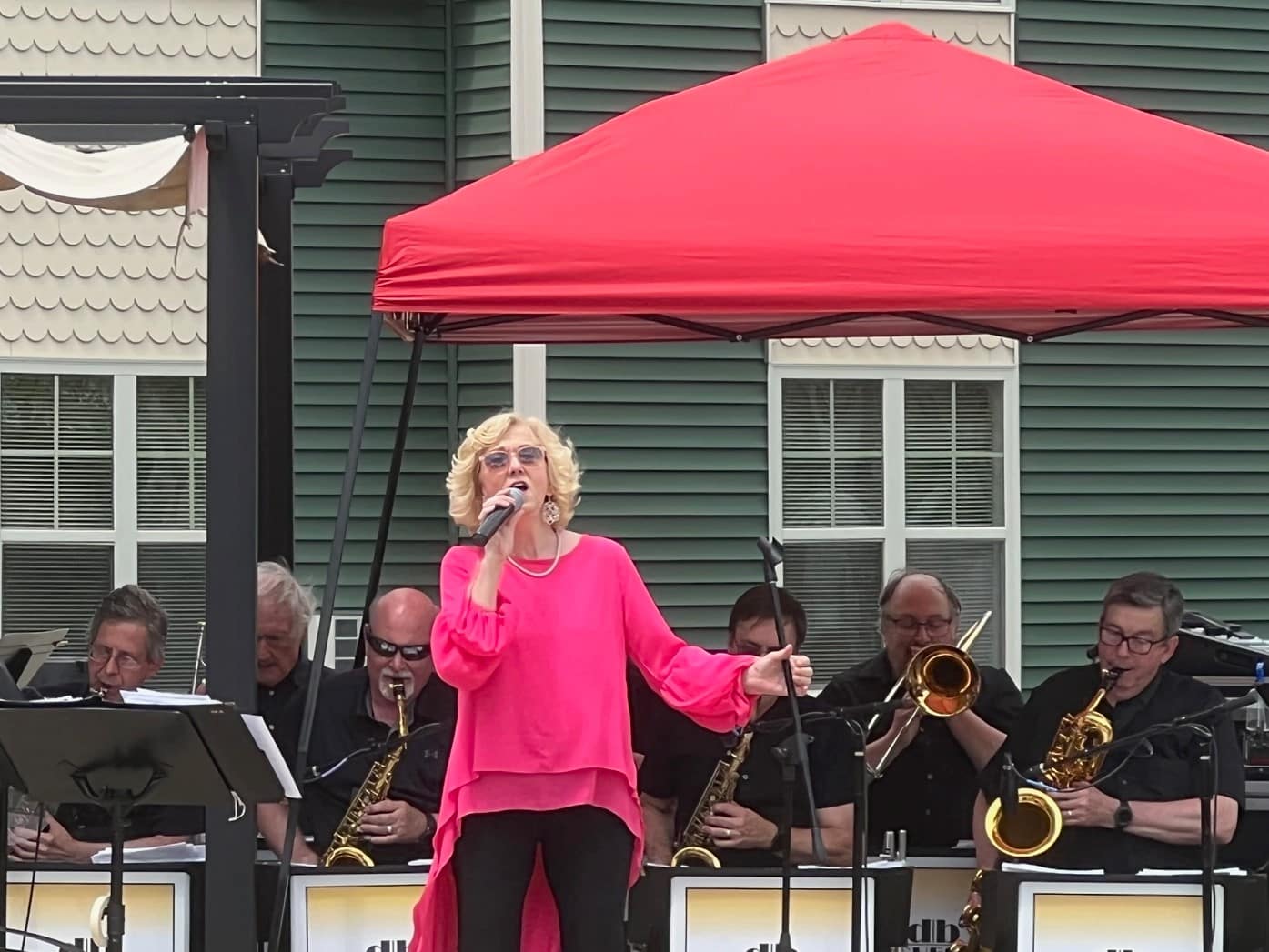 Residents were overjoyed to welcome back the Del Bergeson Orchestra in May of 2022 for some big band music at an outdoor concert. Hearing live music fill the patio was a great start to our outdoor summer fun at the Timbers.
---
Timbers' Academy for Seniors Graduation Ceremony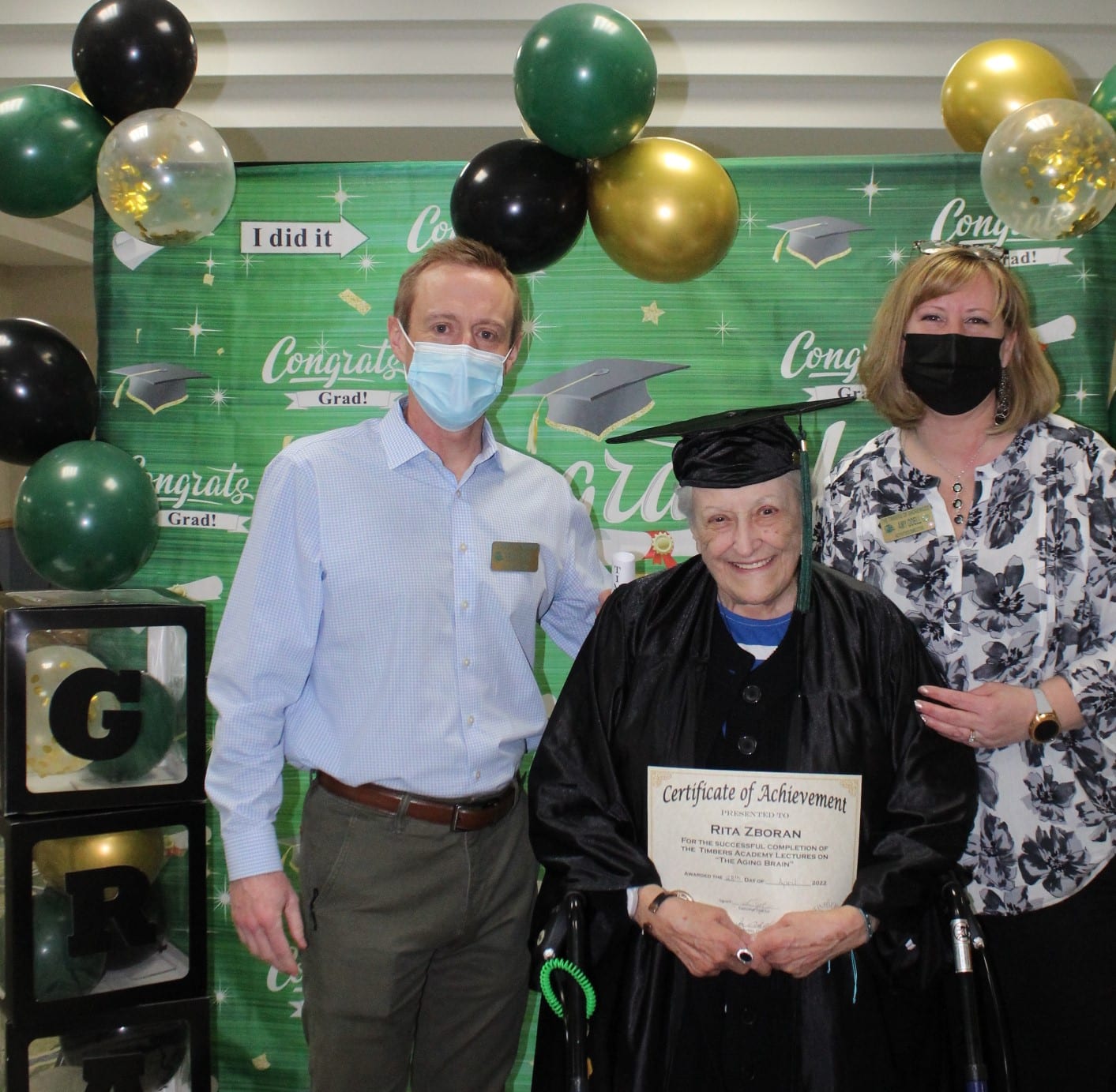 Ten residents received a certificate of achievement at a recent graduation ceremony after completing the Timbers' Academy for Seniors course on brain function.
Launched in 2018, the Timbers' Academy for Seniors features courses on a wide range of topics. Each weekly class includes a lecture and a group discussion where residents can share their experience and understanding on the topic. Read more >>
---
Veterans Day Ceremony
The Abraham Lincoln National Cemetery Honor Guard presented the colors and performed a flag folding ceremony on Veteran's Day. In addition, a ribbon cutting took place for the newly-painted patriotic mural in the Timbers' piano lounge. Senior residents who are veterans received a flag and a pin from the honor guard.
---
Swinging Through the 40's
2015 Senior Prom
Easter Egg Hunt 2015
2014 Senior Prom
2014 Easter Egg Hunt
Intergenerational Games
2013 Senior Prom
Timbers Christmas Party
2010 Senior Prom
10 Yr Anniversary Party
Easter Egg Hunt